Home
---
COVID 19
Dear members, we hope you are all managing to keep well and safe at this time. We are providing a free service to help you at this difficult time.  If you need a food parcel or simply would like someone to talk to then please ring our office volunteer line on: 01268 753513 or Volunteer Liz on: 07976 369180.
Our volunteers are delivering food parcels to doorsteps, but these are limited and dependent on availability, and only intended for those unable to get food through any other channel.
WCT would like to extend sincere thanks to Alex and Lindsey at the Yellow Door Youth Hub, Canvey Island , Cllr Peter May (CIIP), and Tony Roach of St Vincent de Paul Society for all working with Wyverns to enable us to provide this service. Tony Roach (SVP)  07803 879278 is also happy for anyone to call him if they need someone to talk to. Our thanks also go to Morrisons 276 Northwick Rd, M&S Canvey Retail Park, Sainsburys Knightswick Center and the Co-operative 173-175 Long Road for their generous donations.
MIDAS Training. We are pleased to announce: 'WCT now has 2 DAT Trainers and From 1st April 2020 we will be able to provide Midas DAT training'.
Please ring 01268 754959 and speak to Tracy Chapman for more information.
Wyvern Community Transport is a 'not for profit' organisation providing a door to door transport service to the residents of Rochford District and Castle Point Borough.
Our service enables people to take part in activities that they would otherwise struggle to travel to, and therefore reduces exclusion and isolation of vulnerable people.
Our fleet comprises of six minibuses and a Caddy, and they are all wheelchair accessible.
We also have a community (social) car scheme, whereby volunteer drivers use their own cars to take members to hospital and medical appointments.

Who is the service for? 
Residents of the Rochford District and Castle Point areas who are in need of transport due to their age, sickness, mental or physical disability, poverty or because adequate and safe public transport services are not available.
How do I join?
You can download a member's application form from this website, or you can request one by phoning one of our booking lines.  The numbers are on the right hand side of this screen.
We have 2 member's application forms, one for residents of the Rochford District and one for residents of the Castle Point Borough.  You need to complete the one relevant to where you live.
Both sides of the application form need to be completed.  The back page refers to wheelchairs and scooters.
If you answer yes  that you wish to travel in your own wheelchair, we will contact you to arrange to visit you to assess your wheelchair before you are able to travel in it on our vehicles.
This wheelchair assessment is a FREE service which we provide to you.
What can I use the transport service for?
Members can use our service to travel to hospital and medical appointments; dentist and optician appointments; rehabilitation classes; chiropodist appointments; day centres; sports and leisure activities; shopping; lunch clubs; church groups; visiting friends and family – and many other activities.
How much does it cost?
Our Prices are increasing from 1st April 2020, new prices are shown in red. 
You are required to register for membership each year but this is FREE.
You will pay £4.50 for a journey up to 3 miles. For journeys over 3 miles, in our minibuses and caddy it is a further £0.80p per additional mile; and in our social cars it is a further £0.45p per additional mile. Carers pay a flat fare of £2.00.
Group Transport.
Our minibuses are also available for use by registered groups in the area.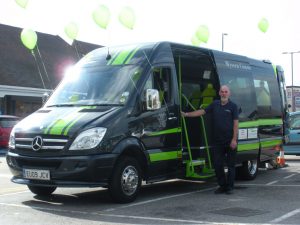 There is an annual membership scheme for groups. The annual membership fee is £20.00. The minimum charge for a local trip within a 20 mile radius of pick up is £45.00 and an additional £1.50 per mile thereafter is payable. It is advisable to make all group bookings well in advance to avoid disappointment.
To join our team and become a Volunteer Mini Bus Driver, Passenger Assistant or Office Admin Assistant,                                                                please contact the office, thank you.